RailBLu is a cross-border project between Poland and Germany funded by the European Union as part of the Interreg funding initiative. The project partners are the Marshal's Office of the Lubuskie Voivodeship (Urząd Marszałkowski Województwa Lubuskiego), the Ministry of Infrastructure and Regional Planning of the state of Brandenburg (MIL) and the Berlin-Brandenburg Transport Association (VBB GmbH).
The project area includes the Lubuskie Voivodeship and the eastern part of the state of Brandenburg. Specifically, these are the districts of Märkisch-Oderland, Oder-Spree, Spree-Neiße and the independent cities Frankfurt (Oder) and Cottbus.
The aim of the project is to sustainably improve cross-border mobility services in local rail passenger transport. This will increase the attractiveness of the region for residents as well as for visitors and entrepreneurs. In the course of the RailBLu project, existing weaknesses will be analysed, measures for overcoming them defined, necessary contractual agreements concluded with transport companies and new service offers will be tested and validated on a pilot basis in the project area.
During the project period, already existing cross-border connections should be made more attractive for passengers by means of services introduced on a pilot basis. The issue of digital tickets and the implementation of shuttle services should make it easier for passengers to use (cross-border) public transport.
Currently, it is only possible to purchase tickets for cross-border regional rail transport at few ticket machines, at the sales counter or from the train attendants. Language barriers add to the difficulty. A distribution system based on contemporary and innovative forms such as Internet-based platforms and applications for mobile devices are not yet available. This is a significant barrier to access the use of cross-border connections in regional rail transport.
The rail network in the project area was mainly planned and built in the 19th century. Military-strategic aspects played a more important role than the mobility of the inhabitants. Railway stations in Lubuskie and Brandenburg are therefore often located in remote places and not where the majority of people live and work. With the rise of the automobile, these access points to local rail corridors have also become less important. Many travellers today would be ready to use fast, congestion- and stress-free rail transport services if access to the rail transport system was easier. Improving the offer on the rail network alone is not enough. The mobility service must also extend to the so-called "last mile".
In a first step, RailBLu analyses existing deficits and defines measures for overcoming them. In addition, new service and mobility services in the programme area will be tested and validated within the project on a pilot basis.
The primary goal is to improve cross-border regional rail passenger transport between Brandenburg and Lubuskie. The sustainable development of transport in the programme area and the increase in the attractiveness of cross-border regional rail passenger transport are in the foreground. Within the scope of RailBLu, the following measures will be implemented on a pilot basis:
Pilot issue of digital tickets in cross-border traffic
6-month pilot operation of shuttle services to connect out-of-town railway stations: RailBLu implements new mobility services on a pilot basis to improve the connection of remote access points to regional rail passenger transport. It also demonstrates their potential for the development of cross-border mobility. This pilot operation will take place between one city/village and one station on the German and one on the Polish side.
These promising solutions, which are to be introduced on a pilot basis, should be implemented for as long as possible and offer an incentive for everyone to make greater use of the attractive regional rail passenger transport services on the cross-border routes. The project makes an important contribution to the achievement of climate targets and to the change in traffic behaviour, as it promotes the switch from car to rail. It also creates an incentive to discover the neighbouring country by rail.
The RailBLu project is divided into three parallel sub-projects:

1. Development concept - sustainable mobility in cross-border regional rail passenger transport between Brandenburg and Lubuskie
Best practice analysis in the German-French border area
Analysis of demand in cross-border passenger traffic using mobile phone motion data and creation of a traffic model
Analysis of the accessibility and potential with a target vision 2050 and model-based demand forecast 2030
Derivation of operational and timetable concepts for regional rail passenger transport on five cross-border routes:

(Seelow) - Werbig - Gorzów Wlkp.
Frankfurt (O) - Rzepin - Zielona Góra / Zbąszynek
Cottbus - Guben/Gubin - Czerwieńsk - Zielona Góra
Gorzów Wlkp. - Zbąszynek - Babimost - Zielona Góra / Cottbus
Cottbus - Forst - Żary – Żagań

Capacity and performance analysis
Determination of investment needs and analysis of weaknesses (infrastructure, vehicles)
Creation of a common target concept (implementation concept for the target horizons 2030 and 2050)
2. Distribution - Broadening the distribution channels for tickets in cross-border regional rail passenger transport
Analysis of initial conditions for digital distribution on the German and Polish sides
Coordination of ticket types and contracts with rail operators to issue digital cross-border tickets in Germany and Poland. Also, the checking and validation of digital tickets in Poland and Germany will be ensured and possible distribution channels (mobile apps, websites) will be identified
Creation of digital tickets in the test field (in Germany and Poland)
6-month pilot issuance of digital tickets
Evaluation of the results and creation of an implementation plan for a regular introduction of digital tickets
3. Shuttle services - innovative offers for sustainable mobility on the "last mile"
Needs analysis and selection of locations with high benefit potential
Planning and preparation of pilot phase: preparation of an implementation concept in Germany and Poland respectively
Tendering and awarding of transport services
6-month pilot operation
Evaluation of impact: technical and organizational evaluation and survey of passengers (usage habits, satisfaction)
Pilot operation on the german side: 12.12.2021 - 25.05.2022
Ministry of Infrastructure and Regional Planning of state of Brandenburg (MIL)
Marshal's Office of the Lubuskie Voivodeship (UMWL)
Berlin-Brandenburg Transport Association (VBB GmbH)
The project is scheduled to be completed by the end of 2022.
RailBLu activities implemented on a pilot basis
Since June 2022, VBB tickets to and from Poland are available in the DB Navigator App. For the following routes, single tickets as well as 24-hour tickets in the standard and reduced tariff are offered digitally:
Berlin AB – Küstrin-Kietz – Kostrzyn – Gorzów Wielkopolski
Berlin AB – Fürstenwalde (Spree) – Frankfurt (Oder) – Słubice – Zielona Góra
The DB Navigator App is available for free in the Google Play Store, App Store and in the AppGallery.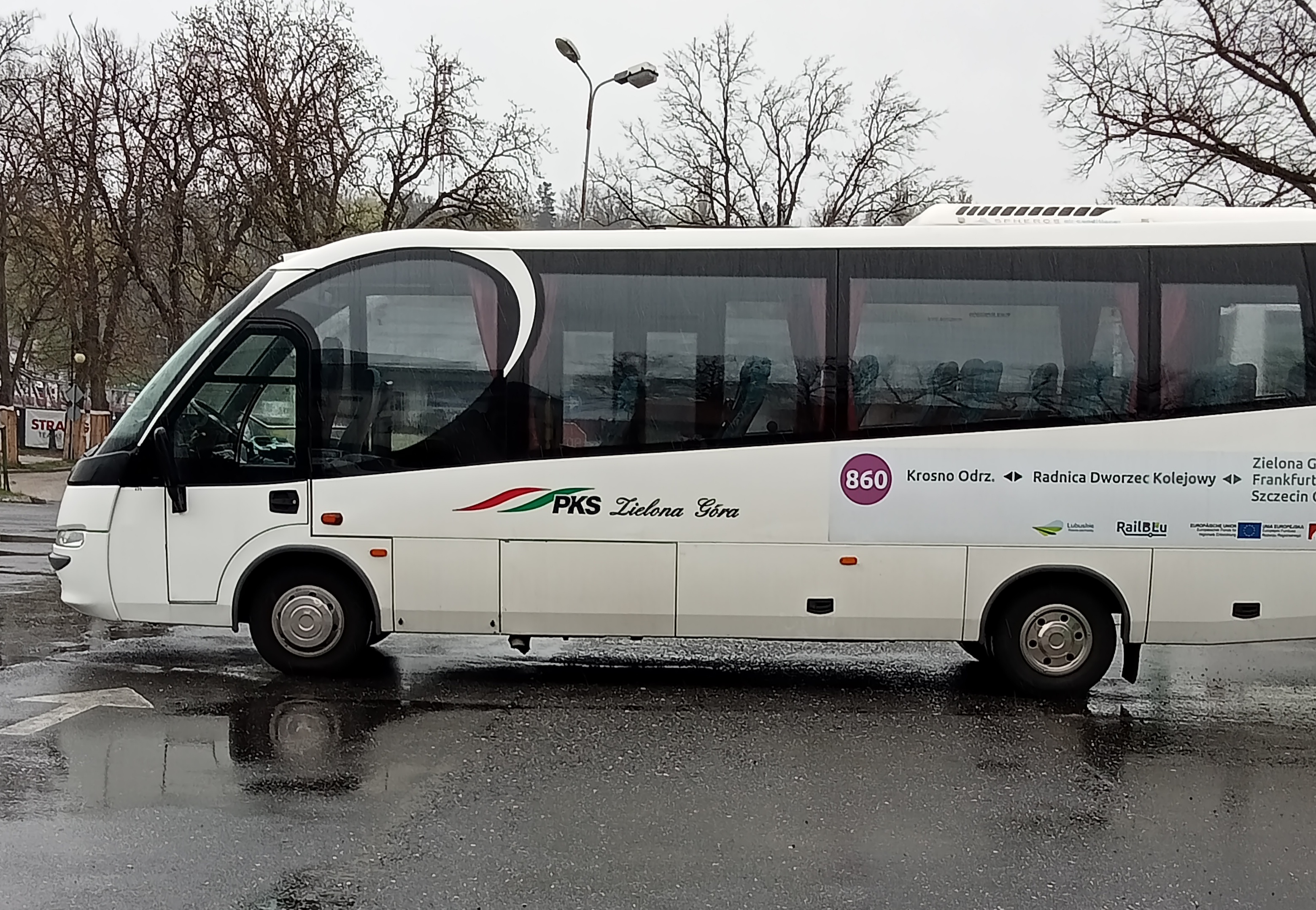 On 28 March 2022, the pilot operation of the shuttlebus line 860 between Krosno Odrzańskie and Radnica railway station has started. Since 12 June 2022 the line has been partially extended to Krosno Odrzańskie railway station to additionally ensure the connection to the new regional railway line RB92 in the direction Guben or Zielona Góra.
The pilot operation ended on 10 December 2022 (with a break in operation from 28 September to 12 October 2022). In total approx. 14,500 passengers have been transported since 12 June 2022.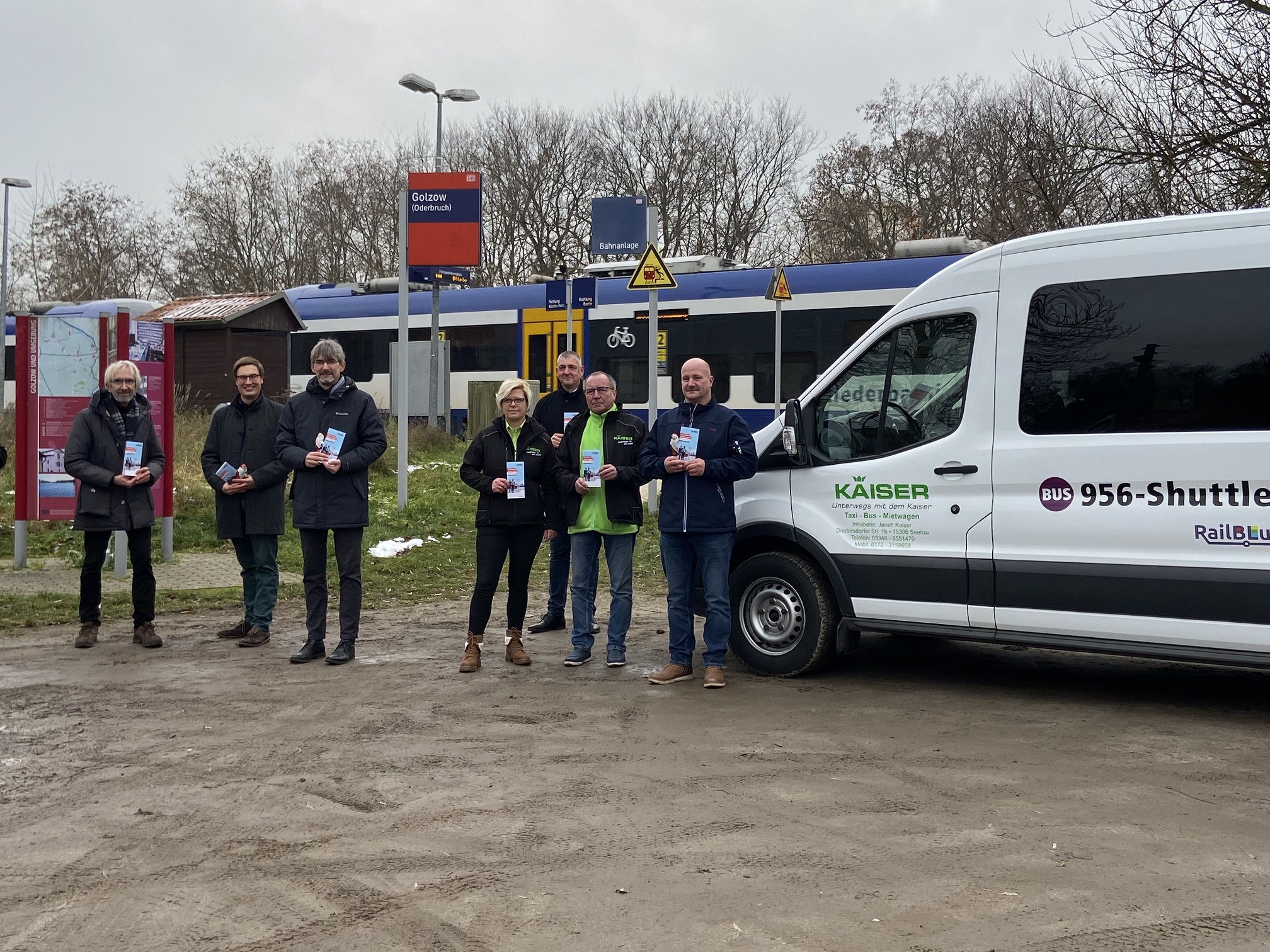 Shuttlebus line 956 operated between the railway station and the village of Golzow from 12 December 2021 to 25 May 2022. The barrier-free minibus with eight seats made it easier for passengers to travel between the village centre and the railway station, which is located a little further out. By providing a connection to the regional train line RB26 in the direction of Berlin and Kostrzyn, the so-called "last mile" could thus be made more attractive.